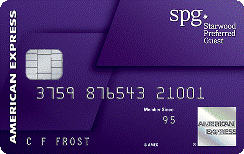 If you have an Amex Personal SPG card then you need to call their retention number to ask if they have any retention offers for you. You should do this today.
Over the past few weeks there have been multiple reports (data points) of people with the Amex SPG Personal Card successfully getting a retention offer of 7,000 SPG points for spending $1,000 within the next three months. That's crazy good. It's almost a third (28%) of their current sign-up bonus and it's 8 SPG points per dollar which is equivalent to at least 16 cents in value per dollar spent for that $1,000 of spend. OR you could transfer those 8,000 SPG points (after including the 1k you'll get from spending the $1,000) into 24,000 Marriott Rewards Points.  Naturally I was excited and wanted to see if this was for real – Spoiler Alert – it IS for real!
After reading a few of the reports I grabbed my Amex SPG Personal card and called the Amex Retention number directly at 800-452-3945. I told the customer service rep (CSR) that I was calling to see if there happened to be any retention offers on the card.
The agent was friendly but really pressed hard asking why I was considering cancelling the card, what I didn't like about it, and why I didn't use the card more regularly. She pointed out several times that I hadn't really used it since the initial spend amount. I told her that I had a card that earned better bonuses on the categories where I spend daily so the SPG Amex just slipped to the back of my wallet not long after getting it. She pointed out that SPG points are the most valuable points out there so they make up for not earning as many points on daily spend when it comes time to redeem them. I agreed that they are valuable and she kept pressing me for reasons and details on why I didn't use it any more and why I was considering cancelling the card so I got a little nervous. She asked if I thought I would use the card more regularly if they were able to somehow incentivize more frequent and regular use to which I, of course, said yes. She said that since I didn't use it much and Amex wants their customers to use the cards I likely wouldn't have any offers but that she would check for me anyways. She asked me to hold for a minute or two and quickly she came back with an offer for 7,000 SPG points after spending $1,000 on the card within the next 3 months. I told her that would be GREAT and thanked her. After she confirmed with me that I was accepting the offer she quickly read the disclosure agreements.
If you have the Amex SPG Personal card you should call the Amex retention line NOW to see if they have any retention offers for you.
800-452-3945.
I'm not sure why they're offering such a sweet bonus, but they are so you might as well take advantage of it.  My guess is that it might have something to do with the recent announcement that Marriott will continue having credit cards with both Amex and Chase after SPG and Marriott finish merging. As a result, new credit card products will be issued by each bank and the Amex SPG card is said to close to new applicants at some point in 2018. Hence, I'm guessing Amex is willing to invest in retaining current cardholders now since that current card product will not be able to get new cardholders at some point in the coming year.
If you don't have the SPG card yet then you should really consider getting it now as it is going to close to new card applicants at some point in 2018. Right now you get 25,000 bonus SPG points after spending $3,000 in the first 3 months.
If you choose to apply for this card then we'd be super appreciative if you used our direct link to the offer. In the interest of full disclosure, like all current cardholders, we're eligible to earn 7,500 points for each of our referrals that get approved after using our link. (up to 55,000 point max annually) Like I said, we'd certainly be appreciative if you click through using our link for the Amex SPG Personal Credit Card.